My Brothers And Sisters Keepers
In 2014, President Obama established the federal My Brothers Keeper (MBK) Task Force to address opportunity gaps for boys and young men of color. New York became the first state to adopt the initiative through the 2016-2017 budget, investing $20 million to improve outcomes for young men of color.
Learn more about MBSK
Milestones
The MSK growth initiative aims to foster community relationships between staff and students, recognizing the importance of a supportive environment. By establishing strong connections, the initiative seeks to support the communitys initiatives and address its needs effectively. Moreover, it prioritizes the development of students' social-emotional health and life skills, equipping them with the necessary tools for personal growth and success.
Meet Our

Advisor.
A. Paul Fisher
ISS Teacher
Dean
M.B.K/M.S.K adviser
M.B.K Queens south fellow advisor
"Hi, I'm A. Paul Fisher, an ISS Teacher, Dean of Students, and M.B.K/M.S.K adviser at Richmond Hill High School. Im passionate about supporting students, fostering a positive school culture, and empowering them to achieve their goals."
MBK Initiatives & Richmond Hill High School

Mission.
MBSK Mission & Vision
Our mission is to Inspire, Empower, and Connect communities to build safe, supportive, and sustaining spaces for boys and young men of color in New York City. Our vision is to support our young people in going as far as their dreams and hard work will take them. It is the single most important thing we can do for the future of New York City and weve got to do it together. NYC My Brothers Keeper put forth three program pillars for the 2021-2022 school year to deepen and expand New York City Department of Educations commitment to ensuring that boys and young men of color are provided the resources and supports necessary to be successful in their elementary, secondary, and post secondary endeavors.
Richmond Hill High Schools Mission
Our mission is to promote young adults who are happy, goal-oriented, well-adjusted, and academically prepared to face the challenges of the future and to contribute significantly to societal progress. The highlight of our strong instructional program is our interdisciplinary approach to Core subjects and inclusion of STEAM and CTE programs that encourage the success of all students. The schools slogan, "Diversity is our Strength," is derived from our multicultural population and promotes a learning environment based on self-discipline and mutual respect for all. It is our goal to have each student take ownership of their educational process and develop a curiosity for lifelong learning.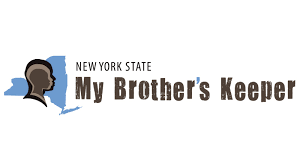 Mission
New York City accepted the My Brothers Keeper Challenge to positively change the outcomes for boys and young men of color. We believe that all children deserve opportunities that lead to achievement…to live and work in safe communities…and to have a clear and equitable path to success.
Milestones
Getting a healthy start and entering school ready to learn
Reading at grade level by third grade
Graduating from High School ready for college and career
Completing post-secondary education or training
Successfully entering the workforce
Keeping kids on track and giving them a second chance

Mission
The New York State My Brothers Keeper initiative seeks to "Change the Narrative" of boys and young men of color, and all students, by closing and eliminating the opportunity gaps they face and helping them to reach their full potential.
Milestones
Ensuring equitable access to high quality schools and programs
Expanding prevention, early warning, and intervention service
Using differentiated approaches based on need and culture
Responding to structural and institutional racism
Making comprehensive and coordinated support services widely available
Engaging families and communities in a trusted and respectful way

Mission
The Richmond Hill High Schools MBSK initiative seeks to build a safe space that is a diverse family of tight-knit individuals, by establishing a system of support. We want to help guide their passions towards setting goals for college and career readiness.
Milestones
Support the MSK growth initiative
Establish community relationships
Reading at grade level by third grade
Support the communitys initiatives and needs
Help develop social-emotional health and life skills